After
Architecture
(Studio)
HEARTH

Distilling the components of the classic backwoods cabin down to a wood stove and a stack of logs, Hearth hybridizes conventionally disjunct elements into a seamless occupiable space - a domestic chimney.

Contrasting the vertical timbers of the surrounding woodlands, the building takes form as a horizontal layering of lumber, from its slatted facade to the logs it stows. An open-joint rainscreen sheathes the building, enveloping walls, roof, and chimney. Stocked with firewood that doubles as fuel and ornament, the cabin is readily equipped for cold nights.

Borne from the woodlands, the cabin is an occupiable hearth, built of and fueled by surrounding timber.

---
CAMP BARKER MEMORIAL
Located in northeast Washington D.C., the Camp Barker Memorial responds to the landscape of American monuments that valorize performance in battle, instead taking form as a series of spatial markers which convey a complicated history. The memorial was designed and commissioned in early 2017 and completed in 2019, a period when the role of Civil War monuments was being reconsidered; the project advocates for the significance of counternarratives.
The Camp Barker Memorial answers a brief for the design of three entry gateways to an elementary school by framing and revealing the site's history as a Civil War-era contraband camp.
A typology specific to the Civil War, the contraband camp came into being as a Union establishment where those escaping slavery sought refuge from Southern enslavement. Initially constructed as Union barracks, Camp Barker later became a contraband camp. Residents experienced cramped, poorly ventilated spaces, food and clothing shortages, and poor sanitary conditions, working for meager wages. However, occupants also gained access to education and religious gatherings. In the aftermath of the war, the site gave birth to a longstanding African-American community just blocks from the heart of the Capital.
The Camp Barker Memorial takes shape as a series of thresholds integrated into the fenced perimeter of a public elementary school. The site, which encompasses an entire urban block, is bounded by the linear school building to the north, while fencing on the east, west, and south sides encloses the school grounds which double as a public park.
The memorial portals simultaneously address the history of the site and its recreational grounds. Intervening in each of the three fenced elevations, the memorial takes the monument off its pedestal and puts it at eye level, physically and visually accessible to the public — a series of thresholds that visitors must pass through to access the grounds. Gates incorporated into each portal can be closed while children are out on recess, but otherwise remain open to the public.
The entry portals recall the informal timber buildings of Camp Barker through wood-clad structures that allow for passage and shading. A continuous folded plane forms each portal's floor, walls, and roof. On the playground side, smaller side wings create habitable spaces that engage the scale of the child. A liner of brass invites reflection and casts a warm glow. Standing within the portal and looking into the brass surface, one can view the outline of one's own reflection and the surrounding colors, a kind of visible ghost that removes personal identity in favor of a shared human condition.
In contrast to the white marble landmarks that define Washington D.C. and the nearby General John Logan equestrian figure at Logan Circle, the exterior surfaces of each portal are clad in charred wood, a finishing technique which fortifies the material against UV, fire, insects, and other environmental agents. Integrated into this palette are a series of narrative bas relief sculptures by artist Vinnie Bagwell which more overtly convey the site's themes. The recessed sculptures, cast of blackened bronze to match the wood, are set into the thickness of the folding portals and depict key figures, moments, and texts in African American history.
The Camp Barker Memorial germinates the site's contradictions for emotional impact: the memorial beacons the elementary school, abstract space frames narrative sculpture, charred wood folds over a thin brass liner. Realities that might not readily coexist are forced to do so — the daily diversions of contemporary schoolchildren play out on a site where people once sheltered from captivity. It is contrast that makes the memorial a critical part of the elementary school campus. Present day students may daydream of the children that learned on these grounds a century and a half prior: confronting the promise of emancipation but a long road to equity ahead. That fight is visibly ongoing, and the memorial, a reminder of what is at stake.
LOCATION
Garrison Elementary School, Washington D.C.
DATE COMPLETED
2019
AWARDS
☆ Society of American Registered Architects National Design Awards Honor Award, 2019
☆ AIA Virginia Awards Merit Award for Excellence in Small Project Design, 2021
☆ AIA Central Virginia Bi-Annual Design Awards, Merit Award for Design Excellence, 2020
☆ Fast Company World Changing Ideas Awards Honorable Mention in Spaces, Places, and Cities, 2020
☆ Dezeen Awards Longlist in Installation Design, 2020
☆ Laka Foundation Design That Educates Awards Honorable Mention in Universal Design, 2019
PUBLICATIONS
🕮 "The Memorial: Present Semiotics of the Past,"
Pidgin 27
, 2020
PRESS
☞
Azure
☞
Dezeen
☞
Domus
☞
Architecture DC
☞
World Architecture News
☞
Gooood
☞ Concept Magazine
☞
Cornell AAP College Magazine
DESIGN
︎ Katie MacDonald
︎ Kyle Schumann
BRONZE RELIEFS
︎ Vinnie Bagwell
ENGINEERING
︎ Yun Associates
FABRICATION
︎ Bruce Baldwin
PHOTOGRAPHY
︎ Sam Oberter
---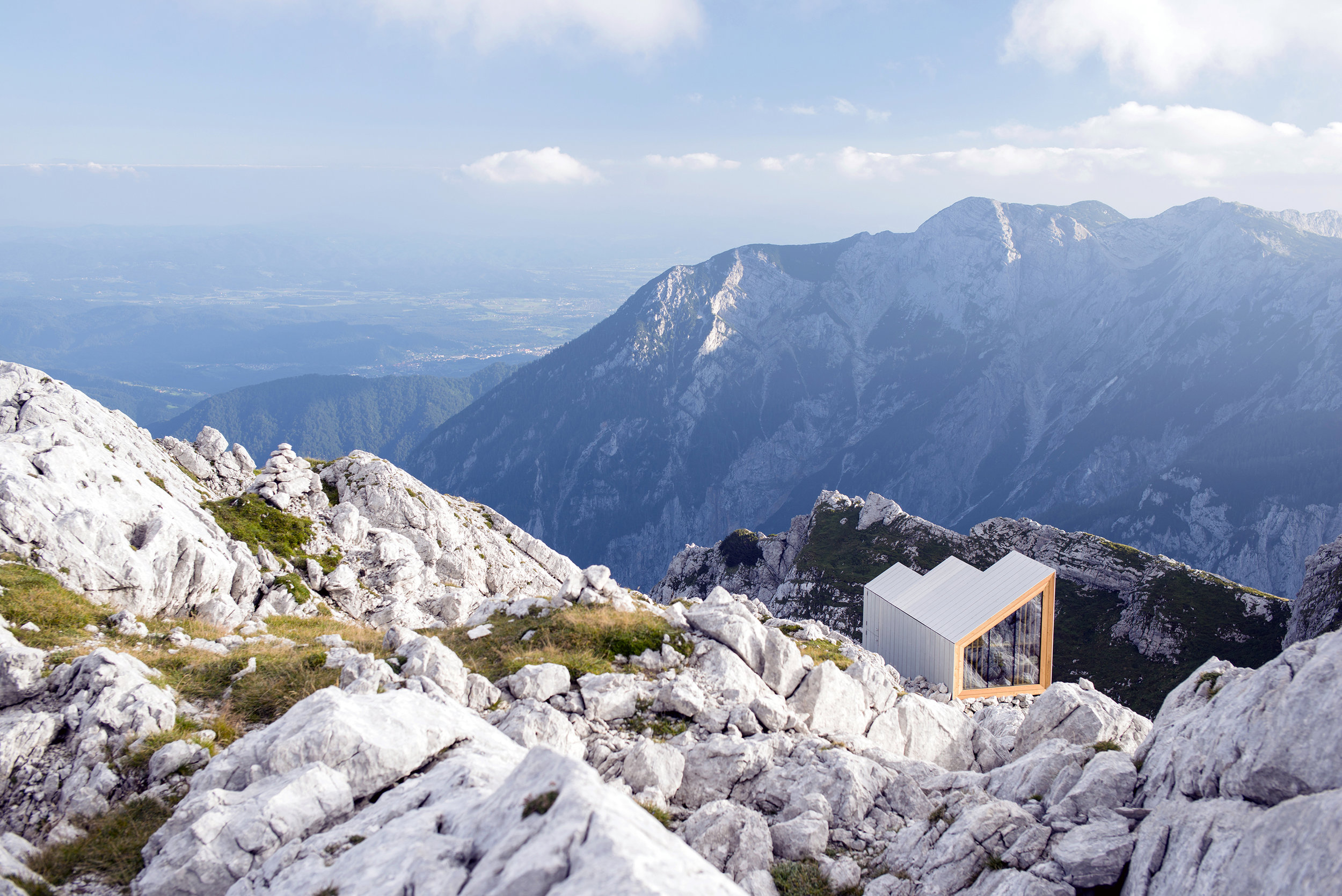 ALPINE SHELTER SKUTA

Designed for an alpine site on Skuta Mountain in Slovenia, this cabin offers an intimate refuge for eight visitors nestled in the scenic Alps. The building shifts its roof line like a series of mountain peaks, shedding snow and framing distant scenes.

The design minimizes environmental impacts: visually, gray, glass reinforced concrete cladding blends into the mountain's stone, and performatively, natural ventilation, robust insulation for cold nights, and a lack of electricity preserve the shelter's natural setting.

With a minimal footprint. the design consists of three modules, in part to allow for transport and also to programmatically divide the space. Deployed by helicopter as three modules, the building was joined onsite into one mass. The first module is designated for entry, storage and preparation of a modest dinner. The second module allows for both sleeping and socializing, with beds that face each other for communal eating and gathering. The last is module is mainly for sleeping, offering two levels of bunks. From both sides of the shelter, one can experience the panoramic views of both Skuta and the valley. In contrast to the thick gray cladding of the exterior, the interior is a warm wood.
LOCATION
Skuta, Slovenia
DATE COMPLETED
2015
AWARDS
☆ AIA New England Design Award, Honor Award in Special Projects, 2015
☆ Mies Van der Rohe Award - EU Prize for Contemporary Architecture Nominee, 2017
☆ Architizer A+ Awards
Architecture and Collaboration: Jury Winner, 2016
☆ Architizer A+ Awards
Architecture and Collaboration: Popular Choice Winner, 2016
☆ Core 77 Design Awards
Built Environment Award, 2016
PRESS
☞
Elemental Living
☞
Wallpaper
☞
Fast Company
☞
Dezeen
☞
Archdaily
☞
Architectural Digest
☞
Dwell
☞
Domus
☞
CNN
DESIGN
Harvard University
︎ Katie MacDonald
︎ Erin Pellegrino
︎ Frederick Kim
Ofis Arhitekti
︎ Rok Oman
︎ Spela Videcnik
︎ Andrej Gregoric
︎ Janez Martincic
︎ Maria Della Mea
︎ Vincenzo Roma
︎ Andrea Capretti
︎ Jade Manbodh
︎ Sam Eadington
ENGINEERING
AKT II
︎ Hanif Kara
︎ Edward Wilkes
Projecta
︎ Milan Sorc
Freeapproved
︎ Anze Cokl
FACADE
Rieder Smart Elements
︎ Wolfgang Rieder
︎ Matthias Kleibel
GLAZING
Guardian
︎ Domen Komac
CONTRACTOR
Permiz d.o.o.
︎ Bostjan Perme
FOUNDATION
Hilti
INSULATION
ROCKWOOL
INSTALLATION
PD Ljubljana Matica
︎ Matevz Jerman
︎ Davor Rozman
HELICOPTER
Slovene Army
︎ Tomaz Perse
︎ Primoz Pintar
︎ Andrej Groselj
︎ Peter Smrkolj
SPONSORS
︎ Rieder Smart Elements
︎ AKT II
︎ OFIS architects
︎ Guardian Europe
︎ H ilti
︎ Ravago
︎ PGM Hotic
︎ ROCKWOOL
PHOTOGRAPHY
︎ Anze Cokl
︎ Andrej Gregoric
︎ Nikolaj Gregoric
︎ Janez Martincic
---
PILOTING SUSTAINABLE AGRO-INFRASTRUCTURE AT THE MORVEN KITCHEN GARDEN

The Morven Kitchen Garden (MKG) is a student-led sustainable agriculture hub for learning, innovation, and food production for the University and the community. Several grants are enabling a mapping of MKG's existing resources to identify infrastructural needs to support growing capacities. This is building toward a design proposal for expanded infrastructure that address MKG's needs while simultaneously creating opportunities for research in sustainable construction and agriculture.

The project is currently entering its second phase, in which sustainable farming techniques such as passive thermal fruit walls and hugelkultur, and 1:1 mockups will be piloted on site. A complete proposal will them be prepared for a fundraising campaign to realize the design at Morven.

LOCATION
University of Virginia Foundation's Morven Farm, Charlottesville, Virginia

DATES ACTIVE
Aug 2021 - July 2022

PHASES
Programming
Schematic Design

DESIGN LEADS
︎ Katie MacDonald
︎ Kyle Schumann

DESIGN TEAM
︎ Sophie Depret-Guillame
︎ Russell Petro
︎ Youfang Duan
︎ Kate Nguyen

GRANTS
︎ UVA Office of Sustainability
︎ Morven Farm

---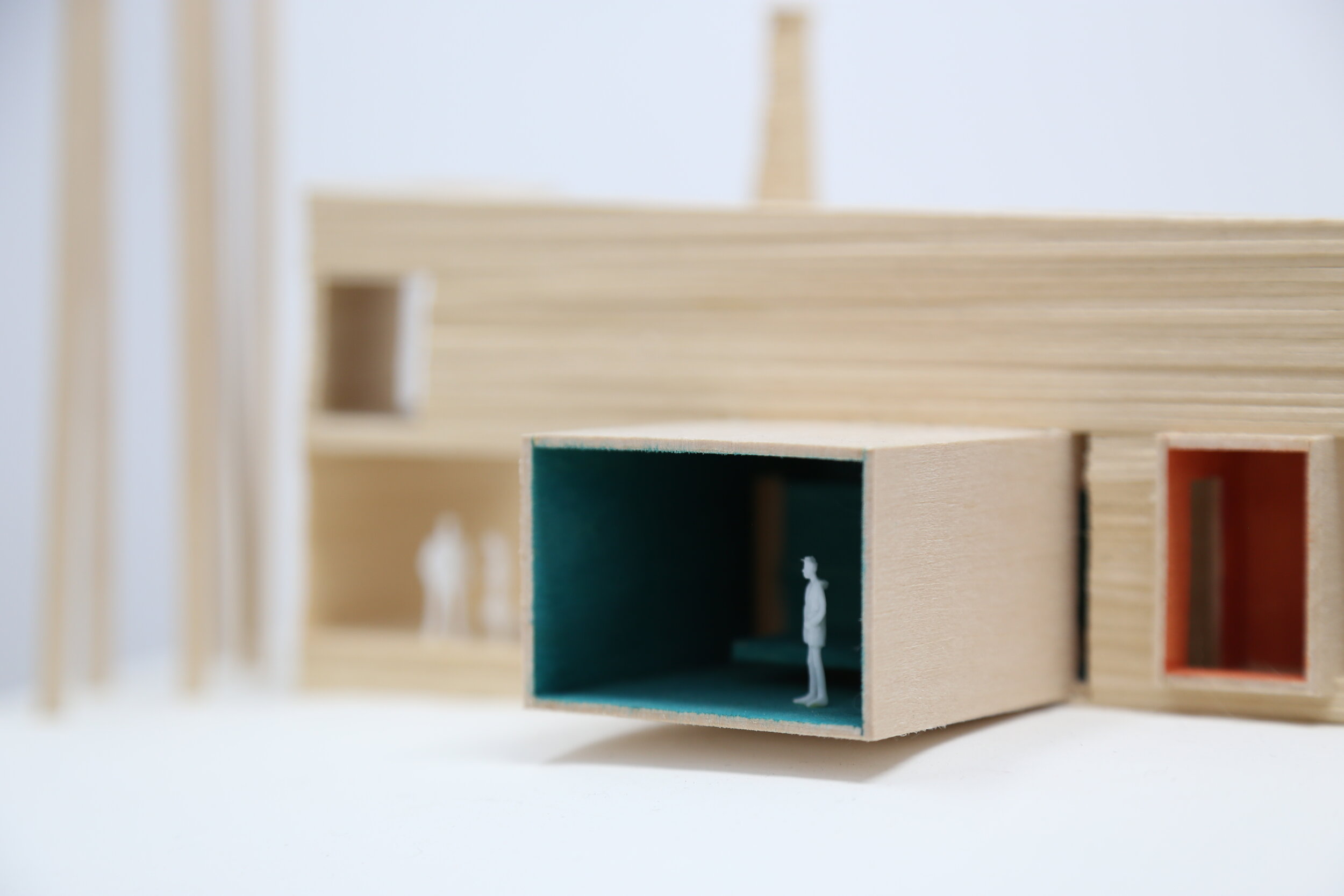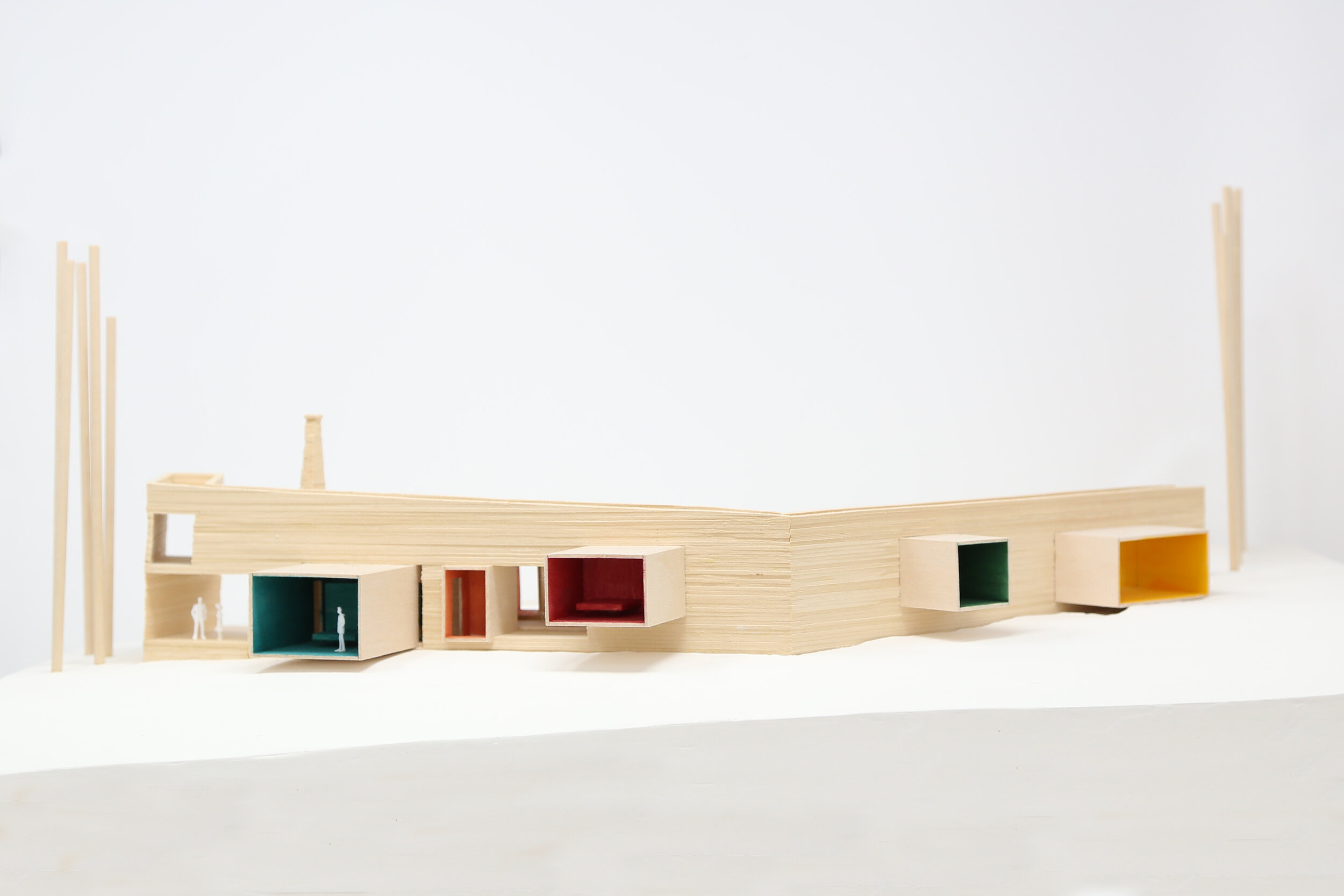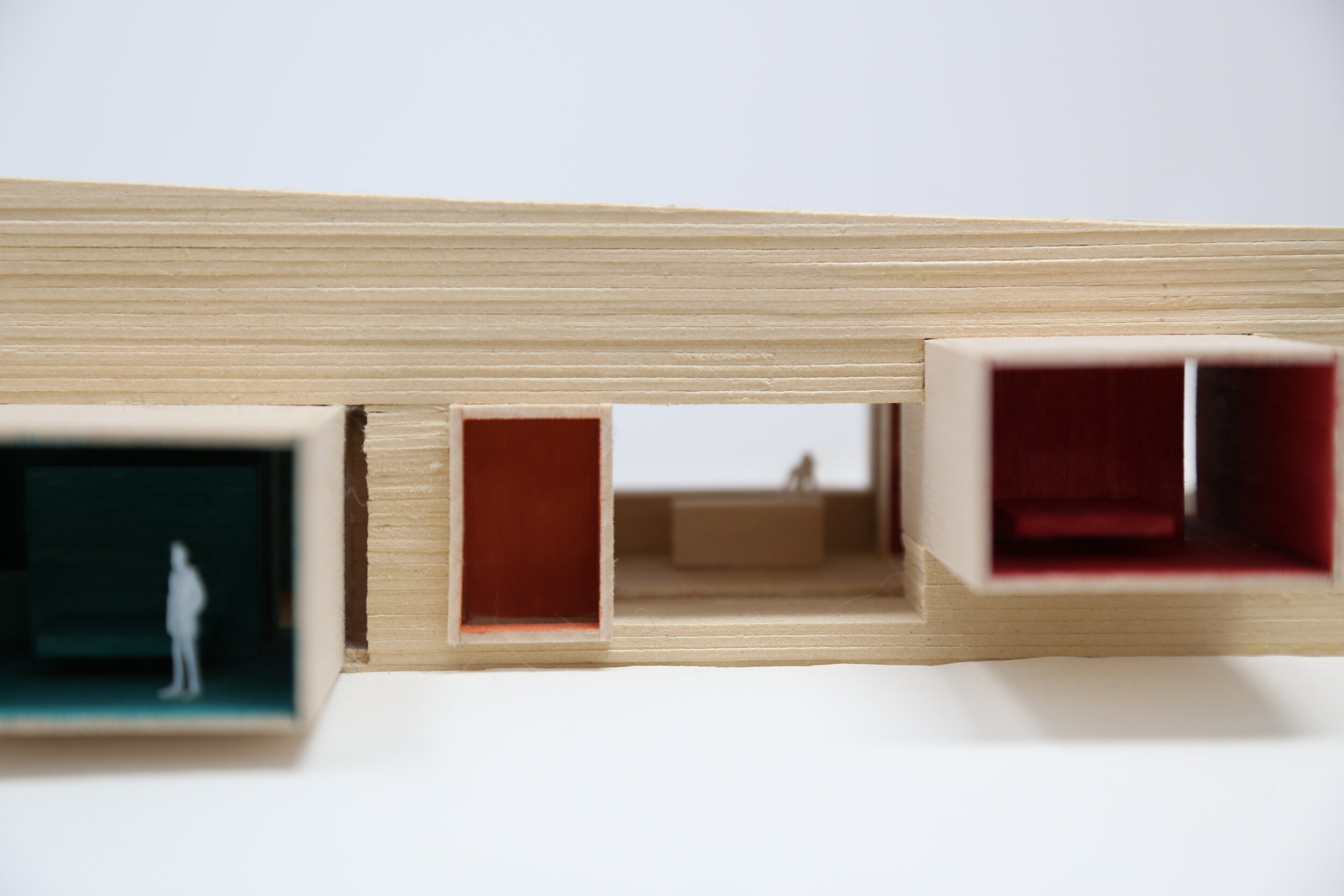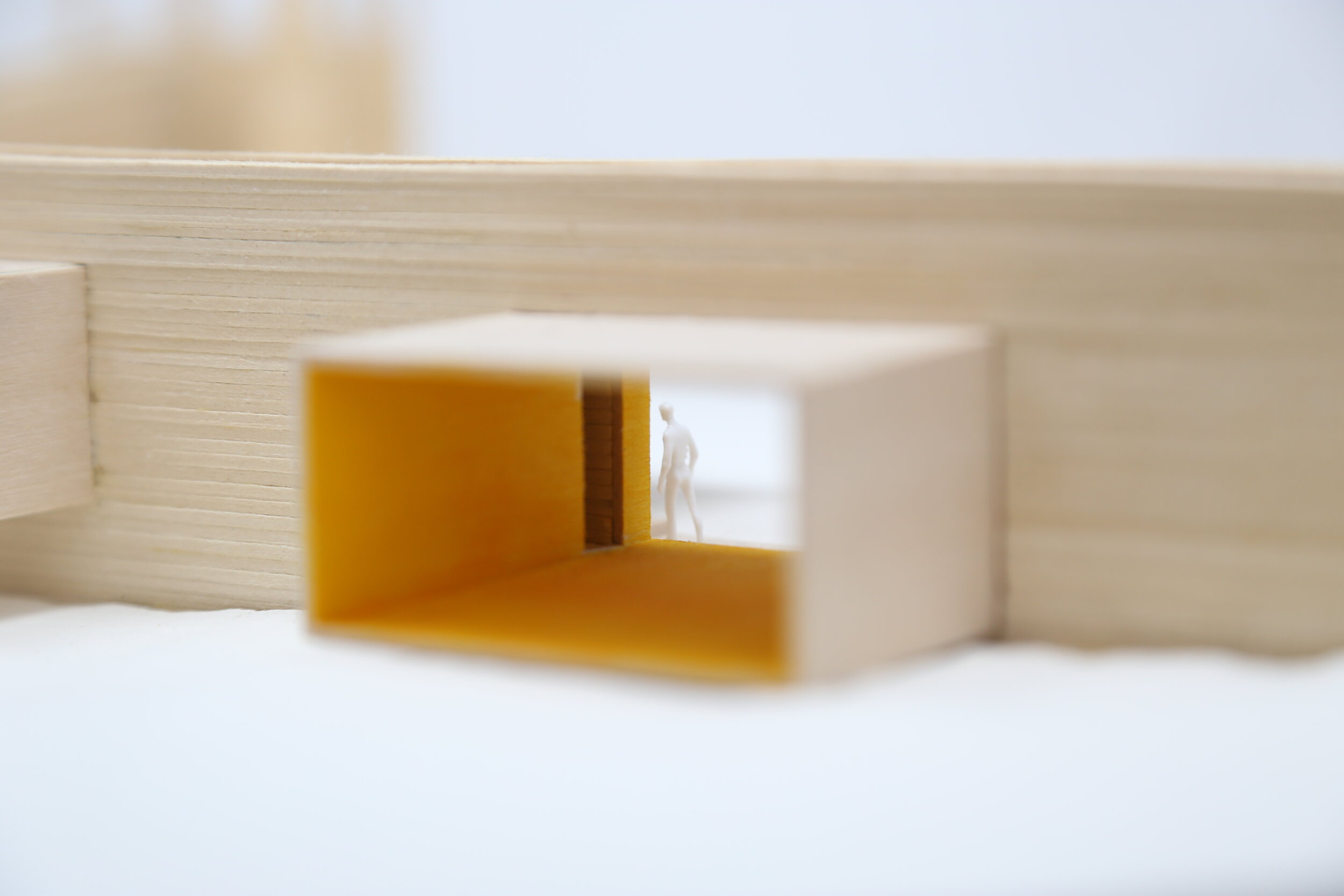 LIVING RUIN

Living Ruin is a weekend home for a couple from Manhattan. A culinary writer and a musician, the couple retreats to the serenity of the wooded site in Roscoe, New York to escape the bustle of urban life.

Sited on a historic lakeside property beset with ruins and stone walls, Living Ruin borrows the language of the wall to mediate a meadow and a cliff above a scenic valley. The dwelling is sited in the location of an existing timber-frame house slated for demolition due to structural decay. The new design maintains the massive stone chimney of the previous building in order to honor the past inhabitation of the site. The chimney is part of a series of existing stone interventions, with stone walls that stretch across the site and form terraces that step down to a lake. The existing stone walls and treeline wrap layers of space, with the house taking form as the final wall to complete the geometry of the site and tie the spaces together.

The floor plan is shaped by an inhabitable wall that forms a boundary between meadow and valley. Communal spaces are located along the terraced meadow, creating a continuous procession that changes function as the floor steps up and down with the landscape. The wall itself houses utilities such as toilets, baths, laundry facilities, closets, and storage, while volumes puncture through the wall to create private spaces and frame the valley to the west. The frames extend toward the meadow to support the roof and form furniture, from front porch to dining booth. The first volume is the carport, which intersects the wall to frame the lake from the perspective of the car. A recording studio facing the forest provides a secluded space for the musician while a large open kitchen and dining room provides views both west to the lake and east to the valley, a commanding position for the culinary writer to test the newest recipe. The wall terminates by turning around an existing stone chimney, climbing to create a tower outpost and framing an exterior room underneath.

LOCATION
Roscoe, New York

DATE COMPLETED
2018

PHASES
Schematic Design

DESIGN
Afer Architecture
︎ Katie MacDonald
︎ Kyle Schumann
Jose Tijerina Architect
︎ Jose Tijerina

---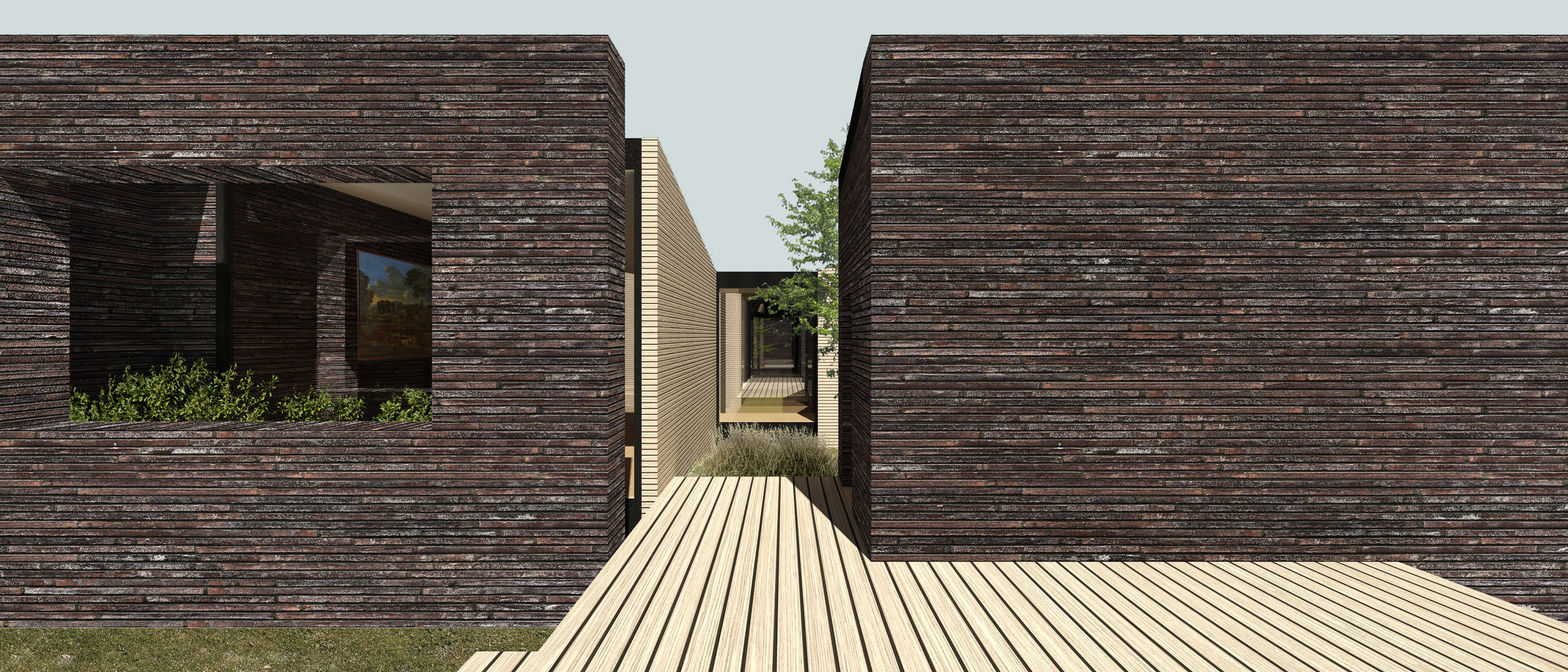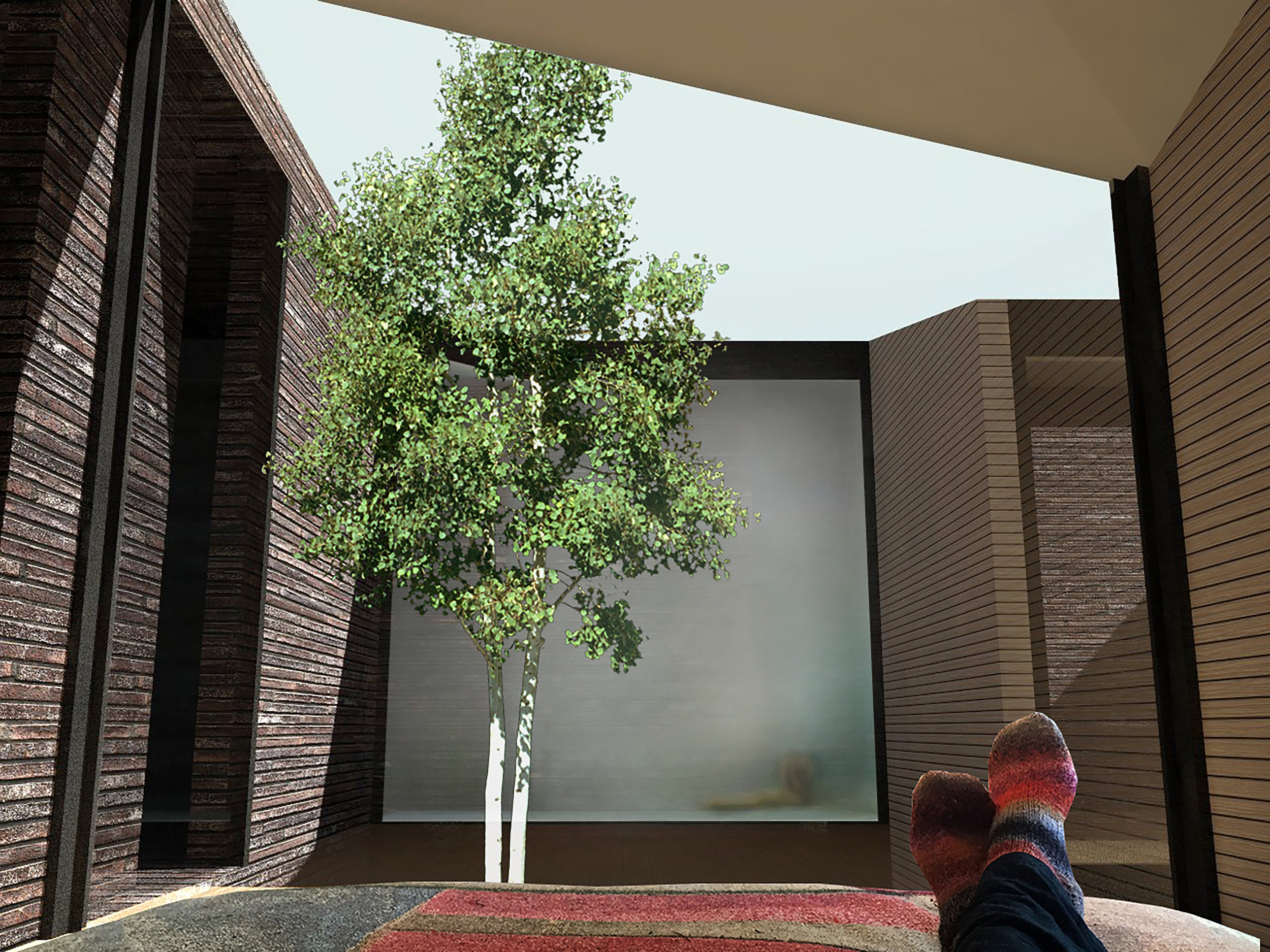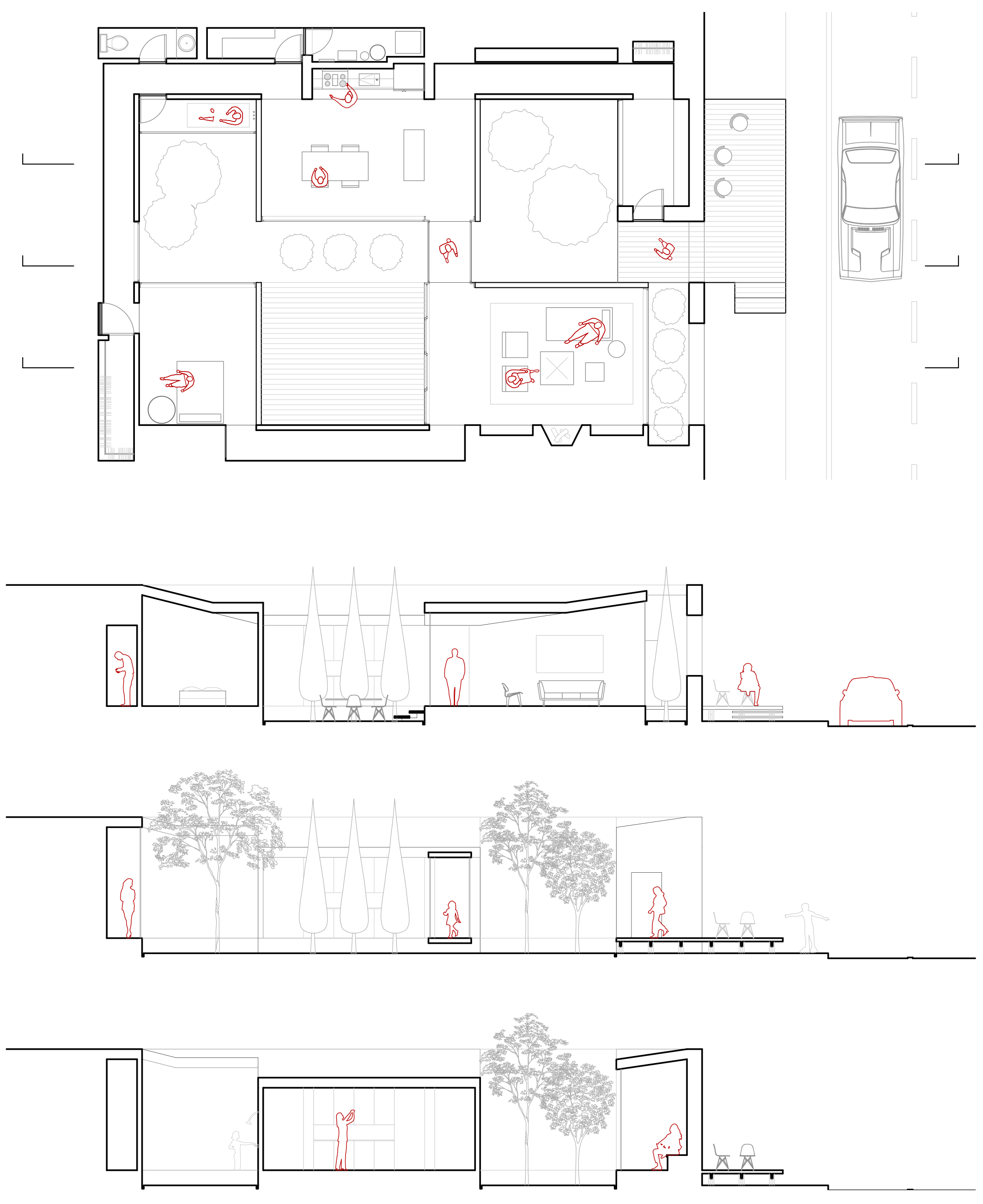 DOMESTIC WALL

Reyner Banham's seminal paper "A Home is Not a House" presented a critique of modernism and its inattention to environmental concerns through a study of Philip Johnson's Glass House. In Domestic Wall, After Architecture revisits Banham's critique and definition of the Environment-Bubble in order to re-imagine the modern house archetype. The building rejects Johnson's brick slab and core ensemble, in favor of a model that takes into account increasing resource scarcity and urban growth.

The resulting novel dwelling type accommodates greater density through elimination of lot setbacks and the augmentation of the party wall, uses passive environmental control, and promises access to nature while dislodging the assumption of a sprawling yard. By inverting Johnson's centralized brick service core with an outer brick service corridor, Domestic Wall allows for increased density (a 3-sided party wall) and frees up the central space for a courtyard. Borrowing its technique from the seventeenth century low-tech fruit walls that revolutionized European farming, the building's brick perimeter absorbs solar heat during the day to keep the building warm at night.

LOCATION
New Canaan, Connecticut

DATE COMPLETED
2017

PHASES
Schematic Design

DESIGN
︎ Katie MacDonald
︎ Kyle Schumann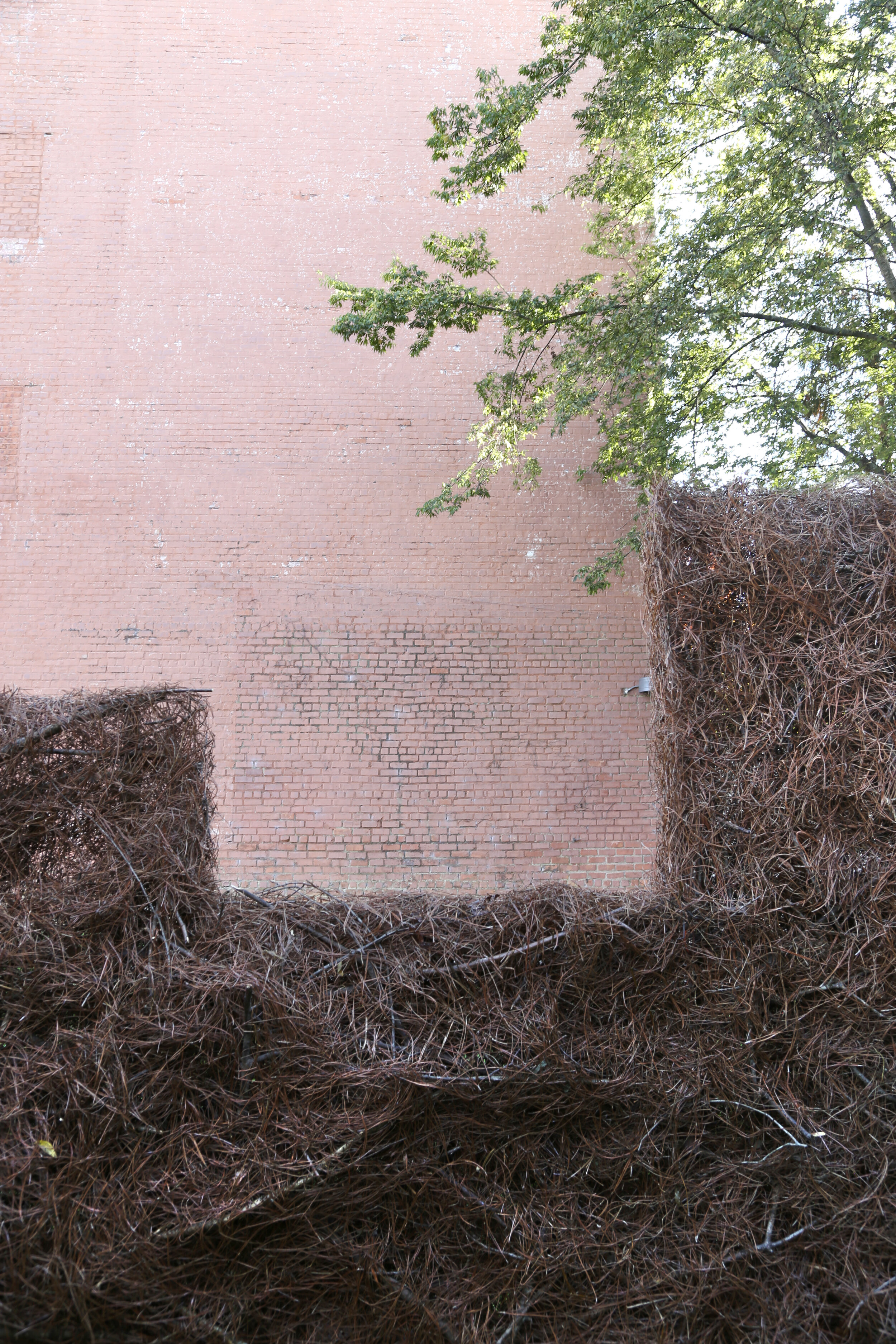 HOMEGROWN

Homegrown is a temporary pavilion installed in the Knoxville Museum of Art's South Garden, between the stepping pink Tennessee marble facade designed by Edward Larrabee Barnes and the historic brick elevation of the neighboring factory building. The installation's four walls form an exterior room within the larger walled garden. A series of volumes are subtracted from the walls to create openings that serve as doorways and windows.

The installation proposes an alternative material ethic by making use of small-scale landscaping waste, including invasive species such as kudzu, bamboo, and various tree species, as well as forestry waste. The plant fibers are formed into lightweight wall-scale panels using a liquid bio-based binder. This material was additively formed into panels using a custom process, pillow forming.

In a nod to the materials of traditional American framing, the panels are faced in pine needles and rest on a base of dimensional lumber. The top edge steps up and down, suggesting doorways, windows, ledges, seats - a rewilding of the domestic. The exterior is flat and angular, reflecting more conventional architectural production, while the interior is undulating, suggesting possibilities for further customization and the creation of integrated, sculpted furniture.

The resulting architecture is not flat and hard, but fuzzy, fluffy, furry, shaggy. It is primitive and high-tech. It is not permanent, but temporal, requiring caretaking and maintenance, like a landscape or an occupant. The work begs a questioning of how our buildings are made, the materials with which they are made, and the new potentials that might be unveiled if these established systems and societal expectations can be reimagined.

LOCATION
Knoville Museum of Art,
Knoxville, Tennessee
DATE EXHIBITED
Oct - Nov 2020
AWARDS
☆ The Architect's Newspaper Best of Design Award in Research, 2021
☆ Society of American Registered Architects National Design Merit Award, 2022
☆ Fast Company Innovation by Design Awards, Honorable Mention in Materials Category, 2021
☆ Dezeen Awards, Longlisted in Installation Design, 2021
☆ DrivenXDesign Awards: New York Awards, Silver Award in Better Future - Environmental Sustainability, 2021
PAPERS
🕮
"Pillow Forming: Digital Fabrication of Complex Surfaces through Actuated Modular Pneumatics", 2021
PRESS
☞
The New York Times
☞
Fast Company
☞
Architect Magazine
☞
The Architect's Newspaper
☞
Inhabitat
☞
Southerly
☞
Inform Magazine
DESIGN & FABRICATION
︎ Katie MacDonald
︎ Kyle Schumann
RESEARCH ASSISTANTS
︎ Kevin Saslawsky
GRANTS
︎ University of Tennessee College of Architecture and Design, Tennessee Architecture Fellowship
︎ University of Tennessee Office of Undergraduate Research Spring Semester Research Assistant Grant
---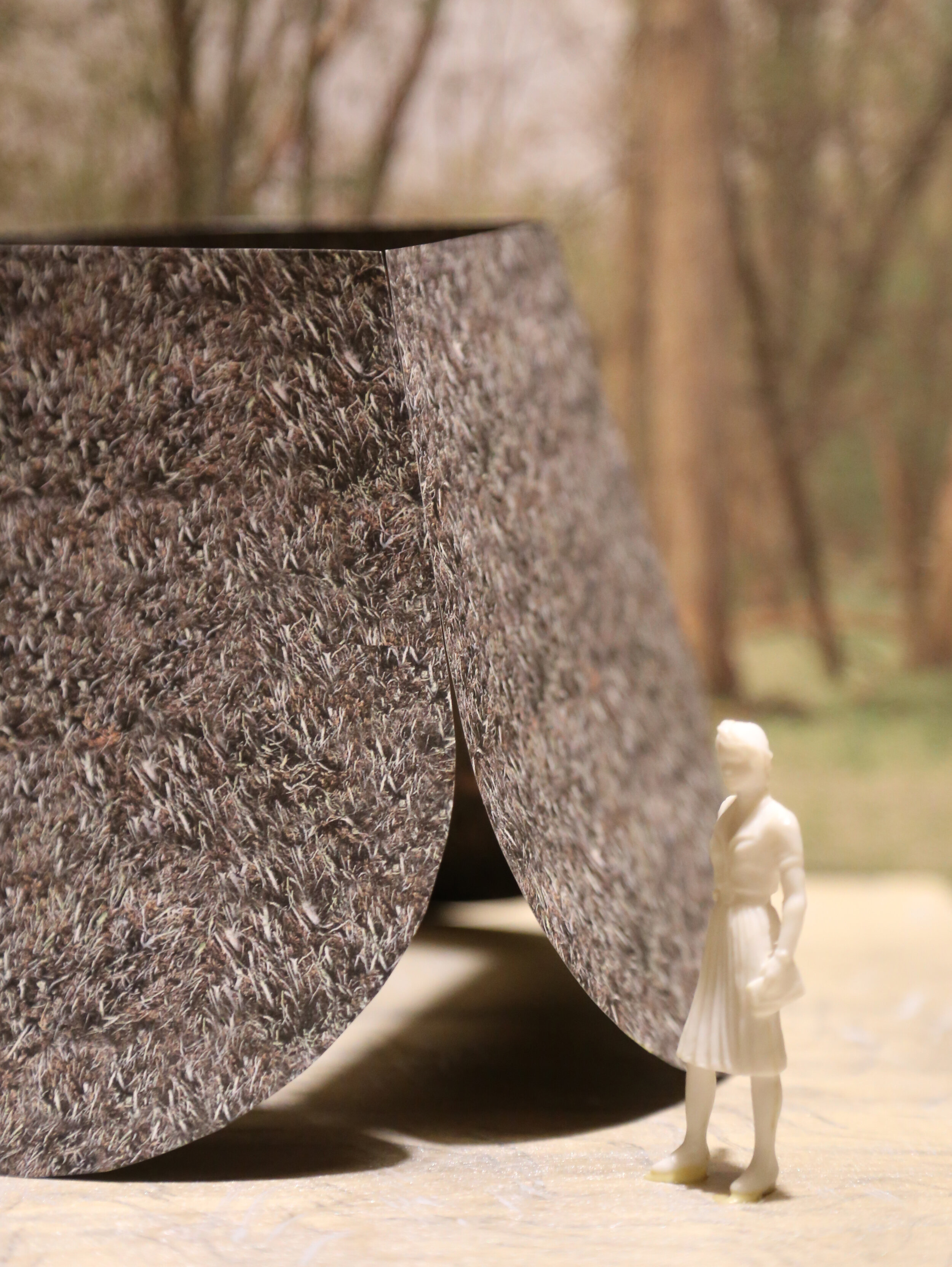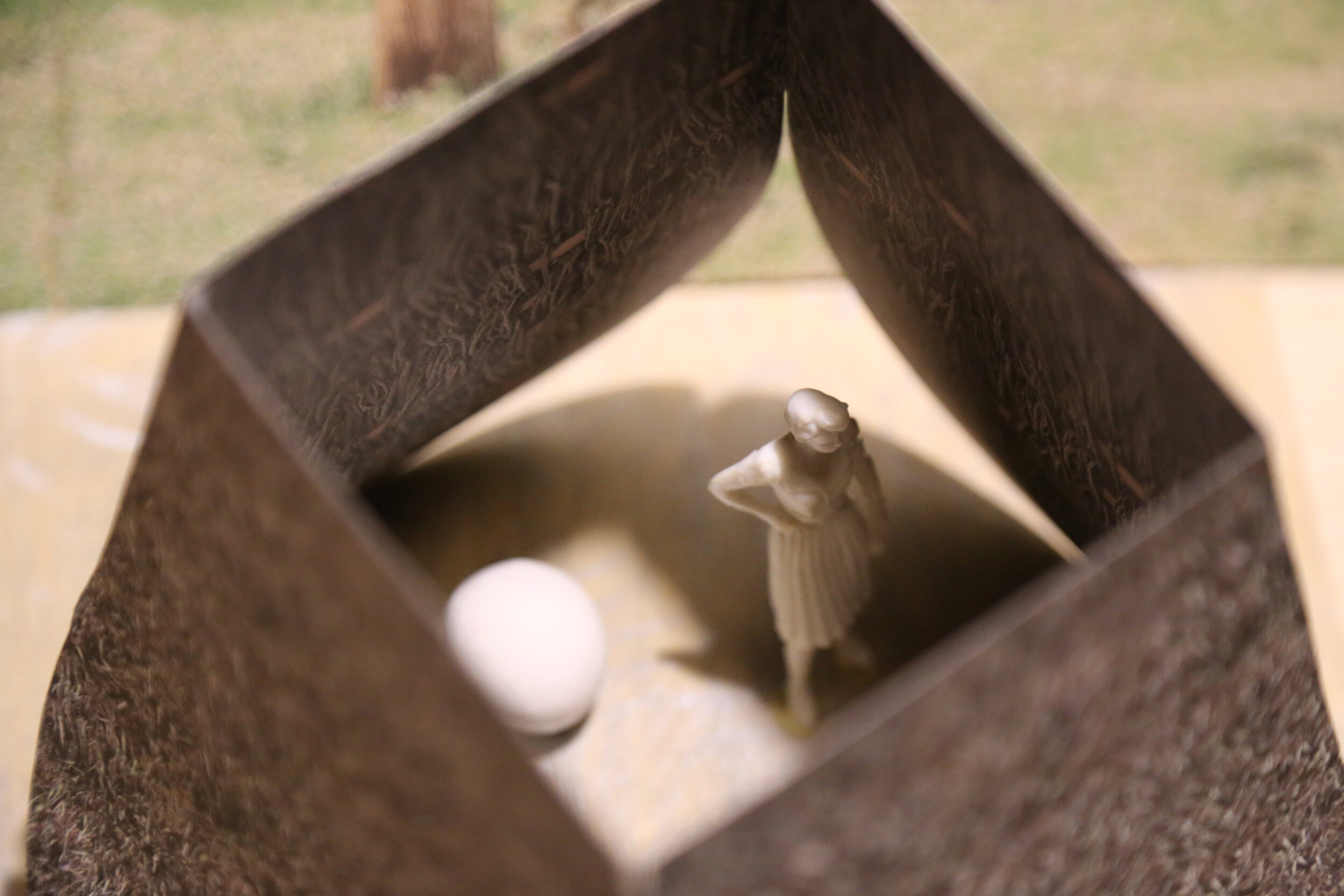 STICKS & STONES

Sticks and Stones collects and catalogs the fallen branches of native Californian trees, sorting them computationally by size and color and displaying them across a structural framework. The intention is to both make use of sticks as a natural biomaterial and byproduct of a tree's life cycle and showcase the variety of local species by emphasizing their unique characteristics within a larger assembly. Composed of four brightly painted framed panels which double as roof and wall, the pavilion's large panels curve as they meet the ground, allowing passage into the structure at the corners. Egg-like concrete seats scattered within and outside the structure invite visitors to perch within the canopy.

Sticks & Stones was selected in the Garden Casitas: Playhouses Designed with Nature in Mind competition in February 2020, which was canceled due to the global pandemic.

LOCATION
Santa Barbara Botanic Garden, Santa Barbara, California

DATE COMPLETED
2020

AWARDS
☆ Garden Casitas: Playhouses Designed with Nature in Mind Competition, Selected for Construction, 2020 (Canceled due to COVID-19)

DESIGN
︎ Katie MacDonald
︎ Kyle Schumann

PARKLET CHAIR

Parklet Chair is an island landscape, displaced from soil, water, and sun and resituated in the interior. It is real, in that it is grown, but perhaps unnatural, in that it sprouted indoors without soil. Germinated from seeds and preserved with a bio-based binder, it is a seat that can transport its occupant beyond the envelope of building systems and into the landscape, into warmer seasons when grass was still vibrant green.
The form of the chair is suggested by the designer through the scaffolding of a mold, but pliable to the whims of each blade, seeking light, and each root, interlacing in its trek downward. Like an orthopedic insert, the seat conforms to the sitter's posterior.

DATE COMPLETED
2020

AWARDS
☆ Society of American Registered Architects National Design Merit Award, 2022

DESIGN
︎ Katie MacDonald
︎ Kyle Schumann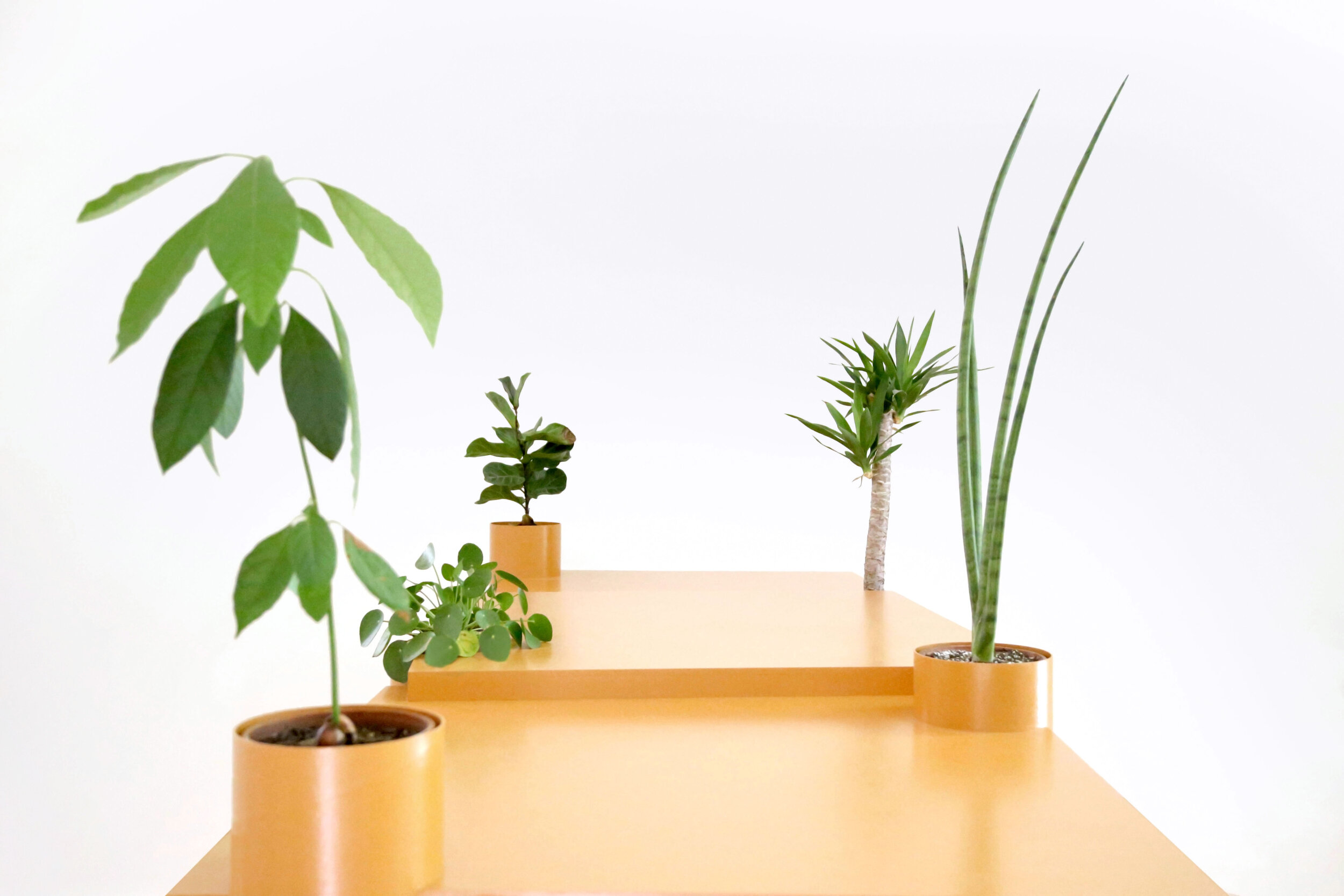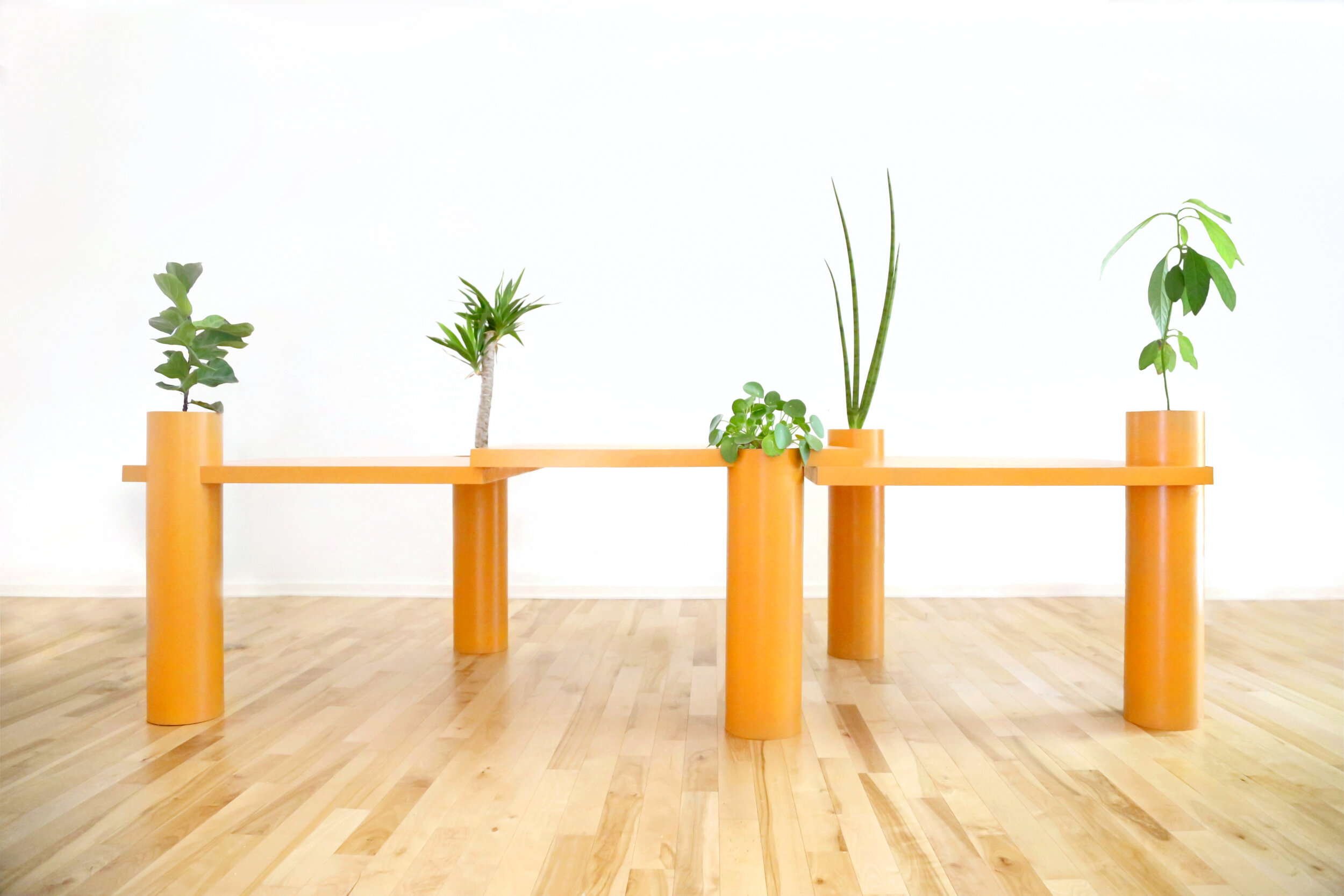 GROW ON ME



Grow on Me supports a range of activities, as its cast of botanical characters influences both the appearance and the experience of the table. Vegetation height, variety, and geometry allow for various scenarios including foliage screening or a shared canopy: a cadre of prickly cacti allow clear visual connections but keep coworkers separate; a family of succulents join the dinner party, masquerading as plates of hors d'oeuvre; a tropical cocktail of banana form a canopy over the length of the table; leafy monstera grant privacy from neighbors at a café. Plant morphology and human social interaction become part of one symbiotic system.

The design is available in a creamy terracotta finish, in a nod to the materiality of flower pots, as well as a series of five other bright hues and three sizes. For inquiries, e-mail info@after-architecture.com.

DATE COMPLETED
July 2021
PRESS
☞
Design Milk

DESIGN
︎ Katie MacDonald
︎ Kyle Schumann
---
EARTHEN DELIGHT

Earthen Delight reimagines the garden as a fanciful theatre for the performing arts. Just as the landscapes of Hieronymus Bosch set the stage for the peculiar, the terrain takes on a sensuous and playful form, complementing the theatrical drama that unfolds within it.

The stage positions itself in the center, growing from the earth and nestling into taller garden walls. These walls become the wings of the stage and slope down to become audience seating in seamless transition.

Shade and shelter is provided by a fabricated tree, which serves as a lightweight fly tower, allowing space for mounting lights and scenery.

LOCATION
Ragdale Foundation, Lake Forest, Illinois

DATE COMPLETED
2018

AWARDS
☆ Ragdale Ring Competition Finalist, 2018

DESIGN
Afer Architecture
︎ Katie MacDonald
︎ Kyle Schumann
Studio Matter
︎ Erin Pellegrino

---
LOGJAM

Sited on the campus of a liberal arts college, Logjam is a gathering space and outdoor classroom for the Lycoming College community. Drawing on the logging history of the surrounding town of Williamsport, Pennsylvania, Logjam mimics the massing of logs that once covered the local Susquehanna River, forming furniture profiles for sitting, eating, meeting, performing, lounging, and other activities.

Williamsport is the historic site of the Susquehanna Boom. During the height of the Boom, close to one million logs were held floating in the river before being sorted and sent to sawmills. Logjam's form is derived from the intersections of the logs floating in the river, facilitating the various seating positions. The section of the benches is determined by projecting the even divisions of a circular log onto a rectilinear volume. A structure of steel frames is faced with surfaces of sapele lumber.

LOCATION
lycoming College, Williamsport, Pennsylvania

DATE COMPLETED
2015

DESIGN & FABRICATION
︎ Katie MacDonald
︎ Kyle Schumann

---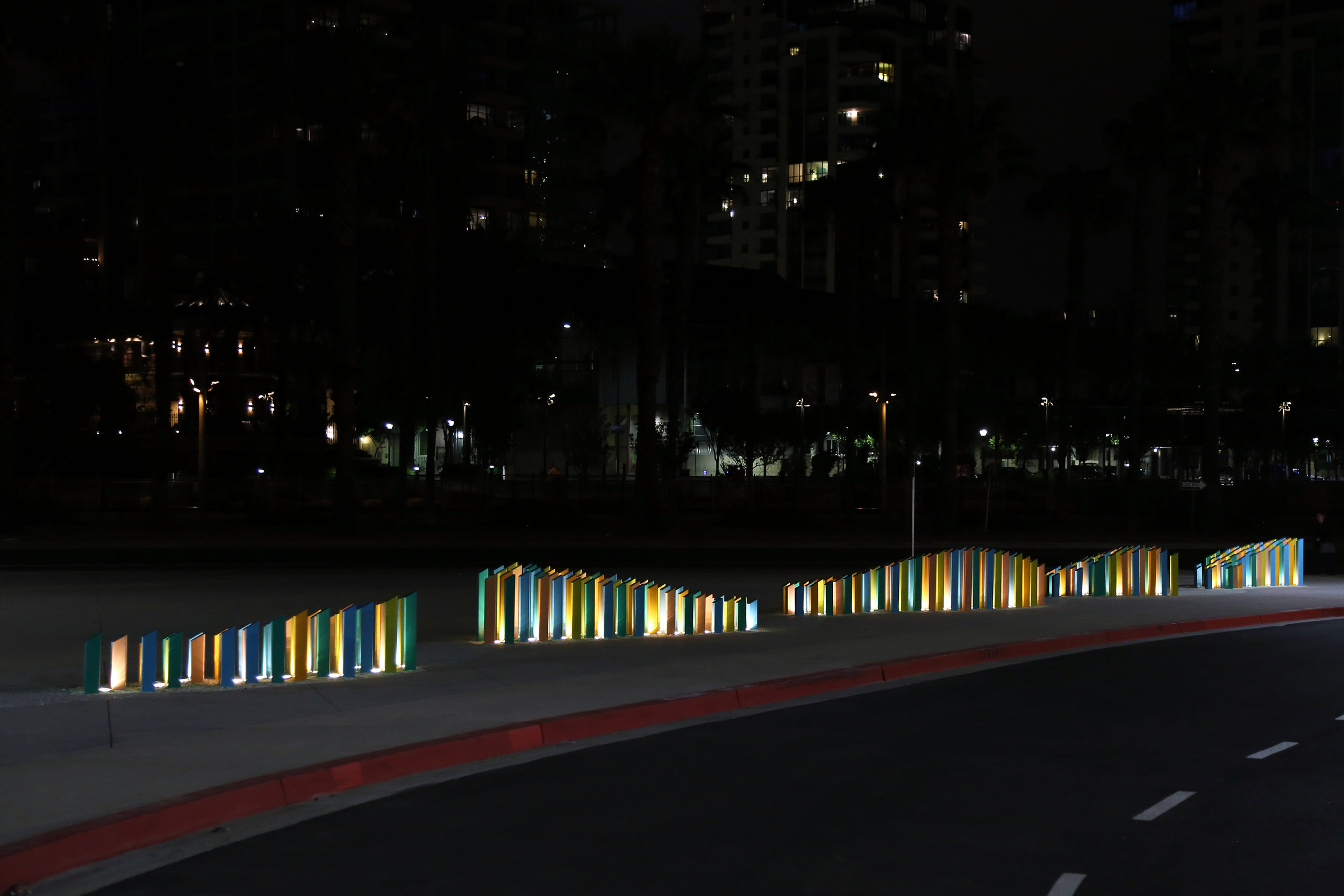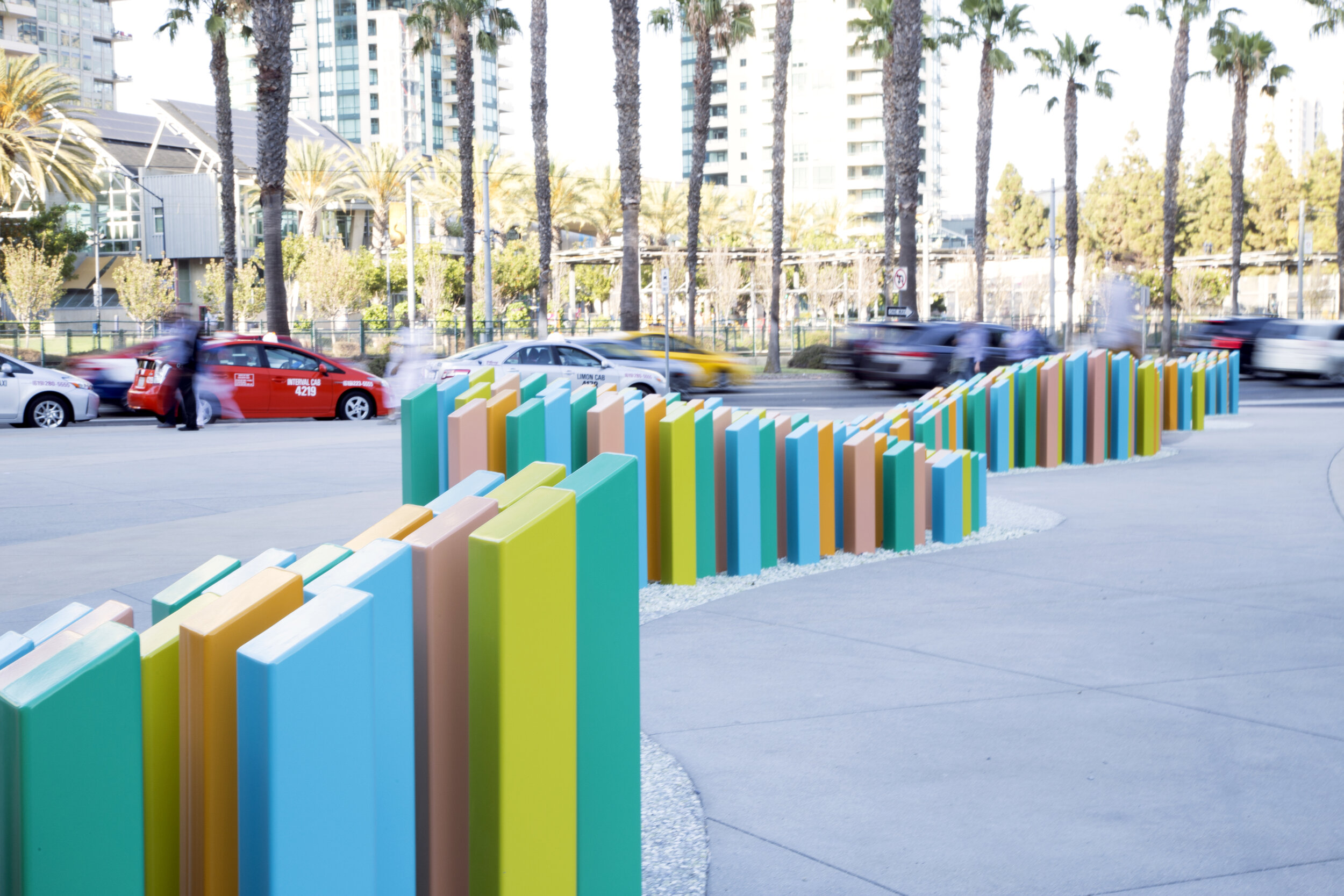 FIELD OF TOWERS


Field of Towers imagines a city densley packed with colorful towers. This wave of towers compounds waves with wavelengths: an undulating field of towers reflect color from building to building, proliferating the range of hues. Five pastel tones are illuminated by LED lights, causing colors to bounce and multiply. The sheered tops of the towers at times catch the color of the sky, appearing as a blue surface above city stripes. Sited in a new waterfront plaza, the Field of Towers installation guides pedestrians from the bustling Harbor Drive to the marina. Emerging from the site's gridded paving, square, powder-coated stainless steel tubes form waves.

LOCATION
Marina Walk, San Diego, California

DATE COMPLETED
2016

DESIGN
︎ Katie MacDonald
︎ Kyle Schumann

FABRICATION
JLMC, Inc.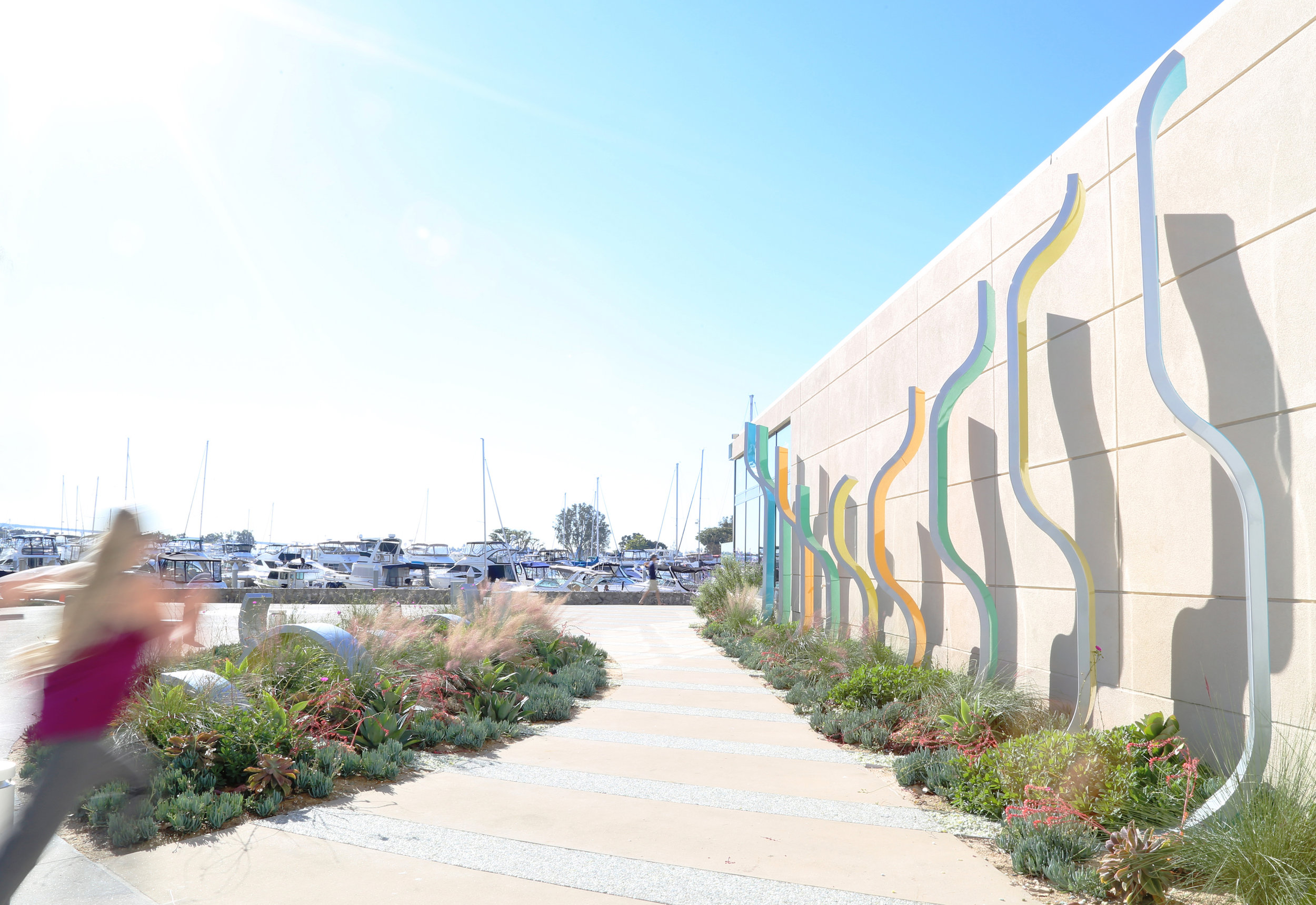 BRISE SOLEIL FOR A PARTY WALL

Brise Soleil for a Party Wall repositions the brise soleil as a sun reflector rather than a sun screen. A series of undulating aluminum strips line a party wall that is incredibly close but cannot be engaged physically. Rather than a physical touch, the strips are painted in bright colors as to reflect light on the nearby surface. The strips additionally compress and expand to direct circulation and views. Located on San Diego's new Marina Walk, the installation becomes a passageway along an otherwise blank wall, transforming from vertical sculpture into paving strips and finally into landscape elements. The faux brise soleil frames views of the bay. Aluminum faces and painted undersides wash the party wall in an animated dance of hues.
LOCATION
Marina Walk, San Diego, California

DATE COMPLETED
2016

DESIGN
︎ Katie MacDonald
︎ Kyle Schumann

FABRICATION
JLMC, Inc.

ENGINEERING
Le Messurier
---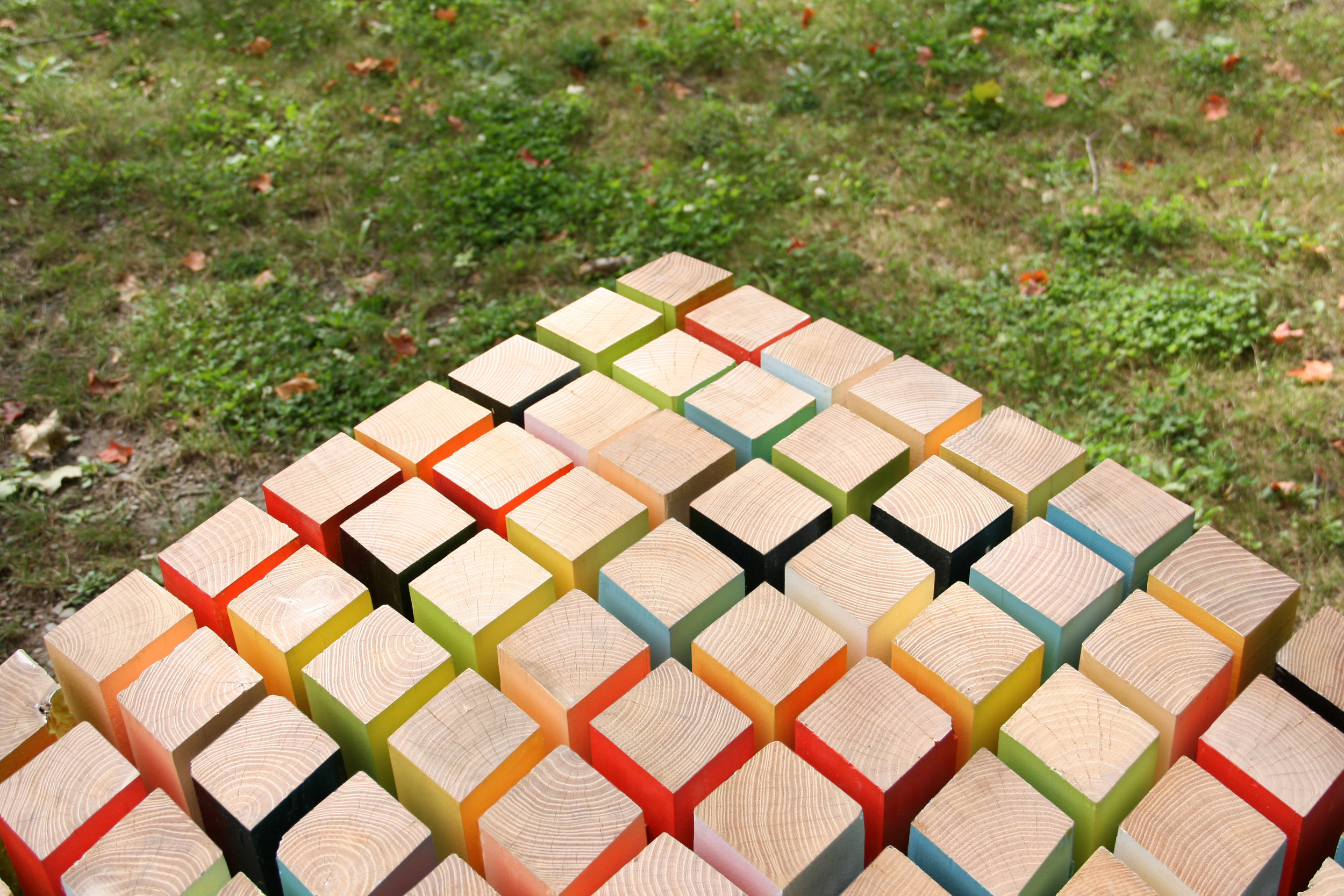 LIGHTWAVE

Lightwave is an investigation of an urban phenomena: the caustic optics produced by the reflection of light on water. In lieu of water, a grid of square timbers form an undulating wavelike surface that embraces the human form. Each post is painted one of seven colors. When lighting illuminates the posts, vibrant reflections overlap, producing a much greater range of hues than the original palette. The surface's crests and troughs provide a variety of seating alcoves. Constructed of 264 CNC machined black locust posts, all fasteners are concealed from the exterior. The timber will slowly age with the site from blonde to gray in color.

LOCATION
Cornell University Botanic Gardens, Ithaca, New York
DATE COMPLETED
2013
PRESS
☞
Design Milk
DESIGN & FABRICATION
︎ Katie MacDonald
︎ Kyle Schumann
---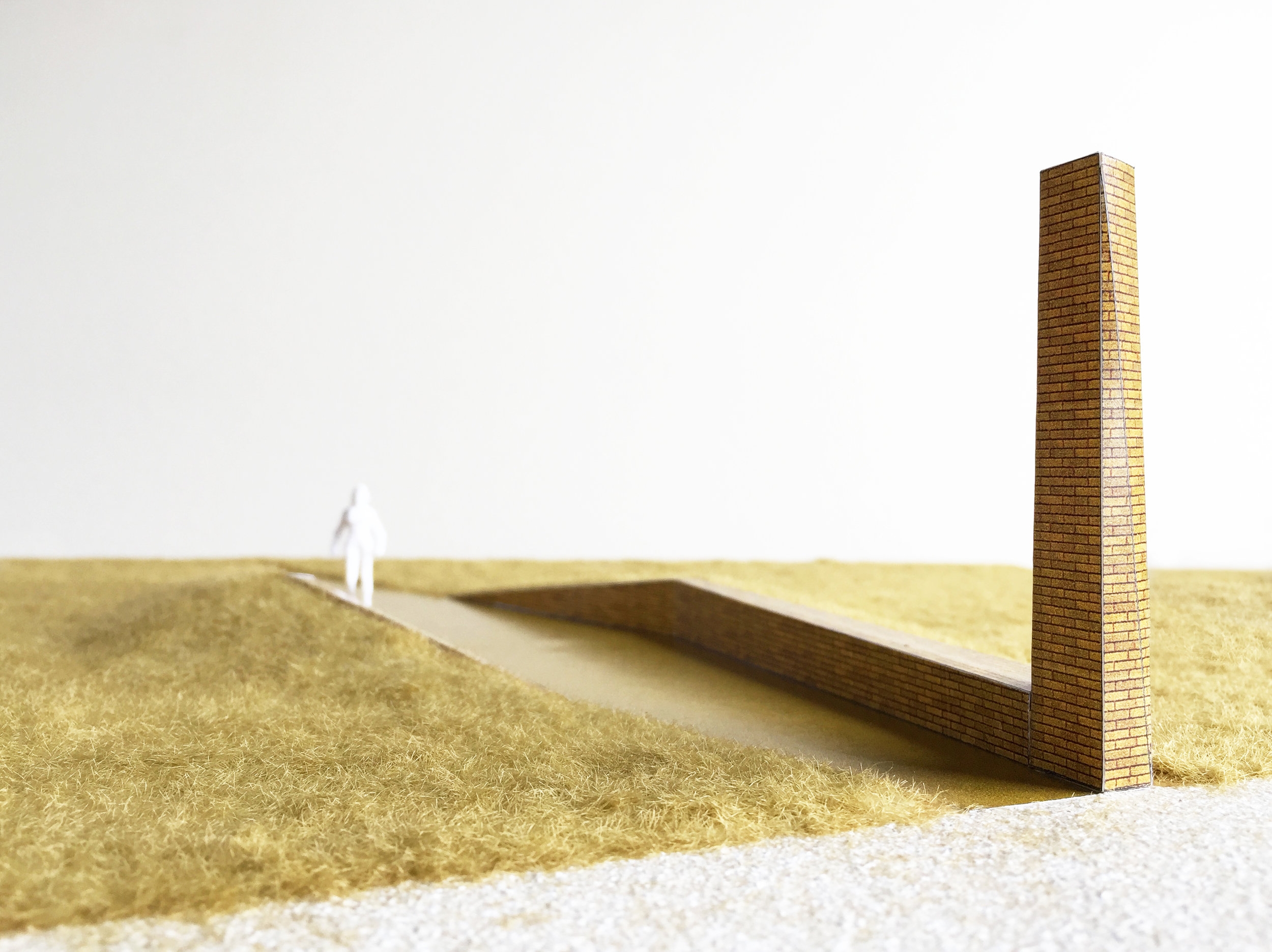 VECTORS

Vectors celebrates the hallmark of the college campus ― the well trodden paths traced by students across the quad. These paths are reinterpreted as cuts and splits in the ground, allowing the earth to become both sculpted and inhabitable.

Strips of glazed brick ― which speak to the Georgian architecture of the campus as well as to Trenton's rich history in ceramic production ― rise from the ground as retaining walls at bench height, before turning skyward to create a freestanding colonnade along the front of Travers-Wolfe Hall, demarcating the edge of the plaza and the start of the quad.

Vectors activates the quad as a gathering space for the dormitory residents as well as the greater campus community. The brick and earth strips form paths and widen to create social zones, equipped with ample seating arranged to foster both robust discussion and individual study and lounging.

LOCATION
The College of New Jersey, Ewing, New Jersey
DATE COMPLETED
2018
PRESS
☞
Forest Hills Connection

DESIGN
︎ Katie MacDonald
︎ Kyle Schumann
CANOPY

Canopy celebrates the legacy of Van Ness as a leisure destination, rich in natural wonder, trails, and the peace that such an environment affords.

A forest of folded brass pillars populates the sidewalks of Connecticut Avenue, laying an infrastructure for a bustling street life that brings together the area's various populations: families admire holiday lights strung overhead, commuters hail the bus from the bench beneath, nature enthusiasts prune the structures' climbing vines, market vendors hang banners from the cables, students grab a bite, and diplomats lounge alongside.

The trunks double as historic markers, with inscriptions that call out points of interest. Clusters of columns form seating areas, while individual columns serve as wayfinding signage.


LOCATION
Van Ness Main Street, Washington, D.C.

DATE COMPLETED
2017

DESIGN
︎ Katie MacDonald
︎ Kyle Schumann
---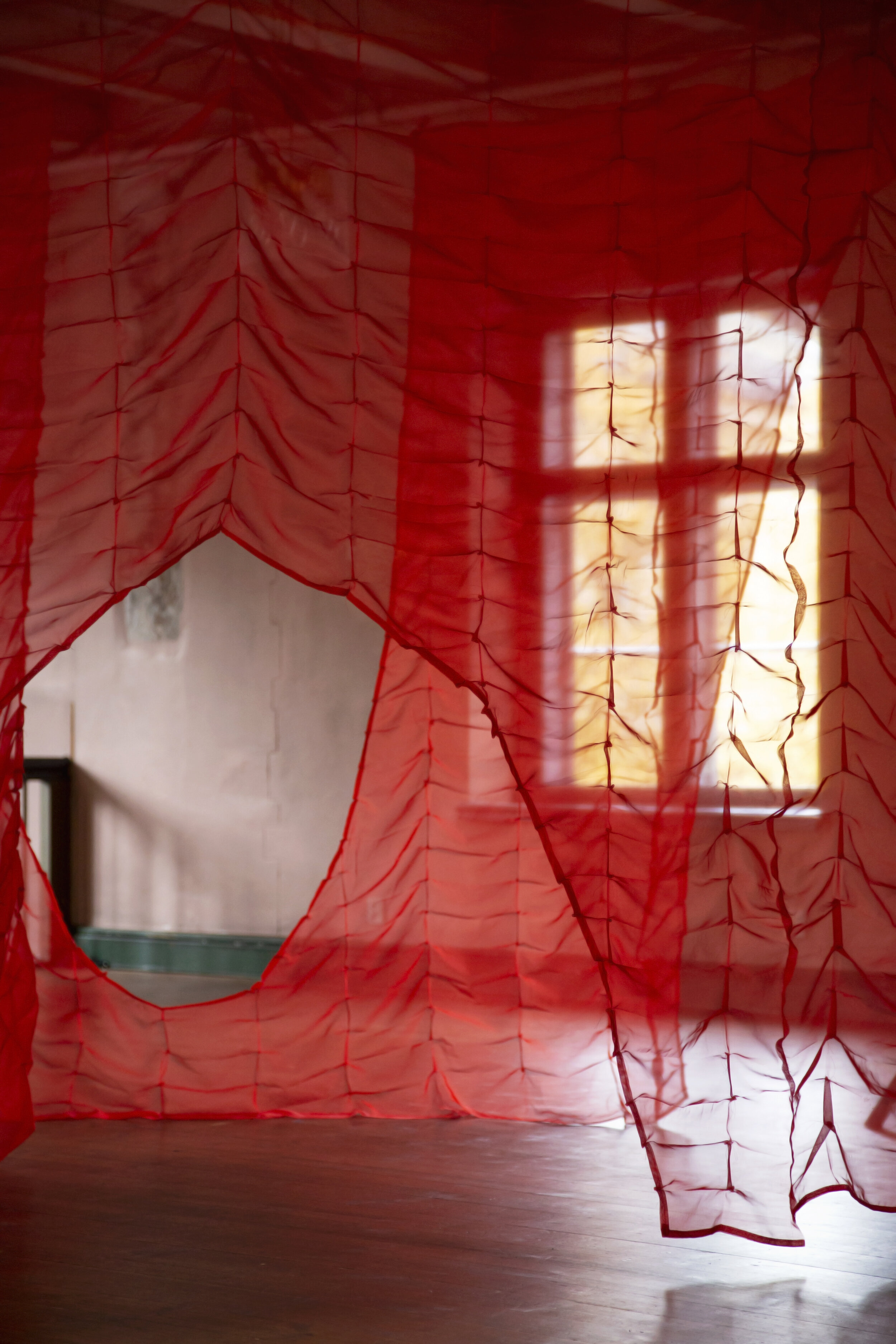 UNFAMILIAR CONSTRUCTION

Unfamiliar Construction addresses the portability and consumption of architectural products through the creation of a compact, rapidly deployable installation. The project takes form as a space easily transported and adapted to new sites, capable of having a life beyond its brief exhibition window.

The great 21st Century American pastime of carry-on chicken—in which an individual attempts to sneak as large a carry-on suitcase as possible past the airline's vigilant gate clerk or be forced to pay exorbitant checked baggage fees—is a cultural phenomenon reflective of mass consumerism on a personal level. Unfamiliar Construction draws attention to this situation with a clear suitcase well within carry-on limits and very lightweight, which openly displays its contents. The traveling of the installation to its site becomes performance as much as the deployment itself.

The wall is made of translucent red fabric, thermoset with a geometry of bricks and cut and draped to form a series of arches. The imprint of bricks gives structure to the fabric, while also transforming the masonry technique from one of mass and permanence to one of collapsible temporality.

The project was fabricated using an adapted Japanese technique of 3D shibori, in which heat is applied to polyester fabric to fix a three-dimensional geometry into its surface. Large sheets of polyester sheer voile fabric were pressed between two relief molds of plywood blocks on a flexible mesh backing. Once the fabric was pressed within the mold, it was heated using a wallpaper steamer. The applied heat thermoset the geometry into the polyester fabric, materially programming it with the creases and forms of the bricks, while selective stitching reinforced these geometries.

Easily deployed, the red brick fabric scrunches neatly into a clear carry-on suitcase and unfurls quickly and in different configurations in various sites. The material programming embedded the form within the fabric, such that it could be compressed into a suitcase, flown across the globe, and later unpacked while retaining its geometry, resisting wrinkles, and giving the fabric shape when installed.


LOCATION
Oslo Architecture Triennale, Enough: the Architecture of Degrowth, Oslo, Norway

DATE COMPLETED
2019

DESIGN & FABRICATION
︎ Katie MacDonald
︎ Kyle Schumann


COURTING MIAMI

Courting Miami is a fabric arcade that shrinks, softens, and reinterprets existing elements - the arch, the colonnade, and the courtyard - from Philip Johnson's Miami Cultural Center into a series of intimate spaces. Reflecting the colonnades of the neighboring buildings, a series of fabric arches assembles and mutates in the courtyard, forming diagonal tunnels that connect the site's various programmatic arms and shade visitors.

Within the grid of arches, panels are omitted to create three small courtyards, each lined with a single color fabric and a perimeter of benches. These intimate spaces are a welcome reprieve from the vast desolation of the existing courtyard, providing both shade and seating. The colored fabric panels billow gently in the wind, softening the hard edges of the site and washing the stucco walls with colored light.

LOCATION
Miami Cultural Center, Miami, Florida

DATE COMPLETED
2014

AWARDS
☆ Dawntown Miami Design-Build II Competition, 2nd place, 2014

DESIGN
︎ Katie MacDonald
︎ Kyle Schumann
---
GLOW

The Glow student name wall speaks to the unique characteristics, experiences, and backgrounds that each child brings to the classroom. A shifting patchwork of powdercoated, white steel plates with brightly painted undersides radiate blushes of color. A range of colors reflect across each other and mix hues, demonstrating visually the splendor of voices coming together.

Large scale magnetic 'book' panels provide unifying spaces where students can pen their names for each of the eight grade levels: PK3, PK2, K, 1, 2, 3, 4, and 5. The remaining square panels provide space for announcements and the display of student work, showcasing each grade's current lessons and giving students a window into what's ahead.

LOCATION
Marie H. Reed Community Learning Center, Washington D.C.

DATE COMPLETED
2018

DESIGN
︎ Katie MacDonald
︎ Kyle Schumann